On the eve of International Women's Day we hosted our latest GroWiT (Growing Women in Technology) event entitled 'Balance for Better Business Outcomes' in partnership with Ericsson. The focus of the evening was to drive collective thinking around whether we create better business outcomes from having more gender diverse teams. If you missed the event you can watch the highlights right here or, if you prefer, read a brief summary of the event below.

Sarah Armstrong Smith, Head of Continuity & Resilience at Fujitsu, kicked off the event with her presentation entitled 'Changing the Story' around women in technology. She shared a range of insights from her own personal experiences of leading 'The Women's Business Network' within Fujitsu, who became a Times Top 50 employer for women for the first time ever last year. The talk focused in on busting some myths around women in technology. The first being that there aren't enough women in technology. 'There are lots of women in technology' Armstrong Smith stated 'the problem is that they just aren't visible enough'. She went on to discuss the critical differences between positive discrimination and positive action coupled with the need for positive role models in this space. She also shared the following slide which showed a range of news announcements regarding diverse candidates being appointed to senior roles. The interesting point was that none of the press releases stated the name of the individual who was taking the position. This in a nutshell summarised the argument around the need to change the story in diversity. We should be talking about these individuals and what makes them great rather than making the headline purely focused on their gender, sexual orientation, disability or ethnicity.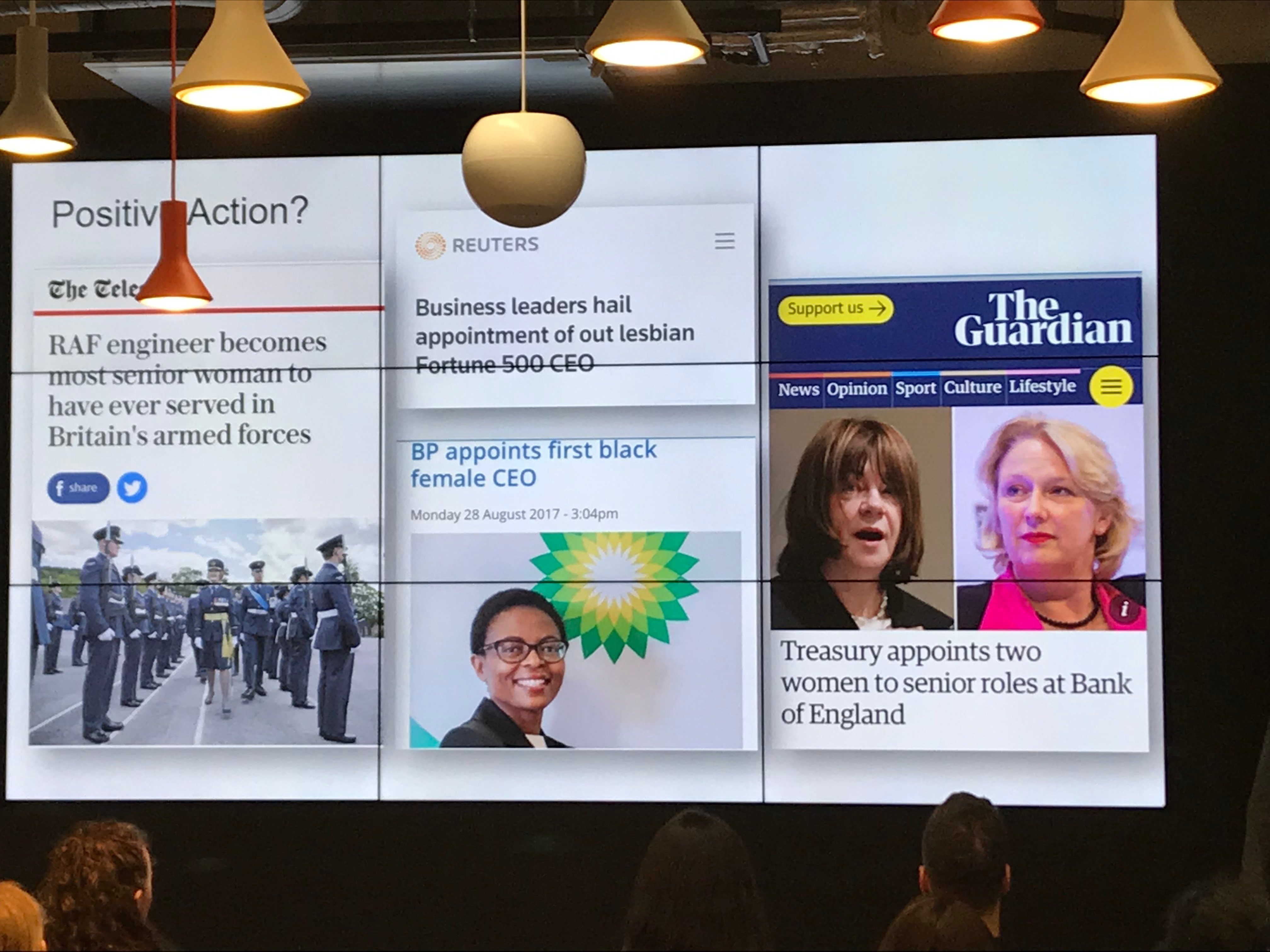 Sara Jane Asquith, author of the book 'Make Space', then shared some practical tips on how to drive a better balance within the workforce. Sara Jane discussed the business case for diverse teams stating that 'companies that have more women are 30% less likely to go into administration' and '10% more likely to fare better in challenging economic environments'. She pointed to evidence from US Fortune 500 companies that suggested more diverse businesses are more innovative, have better employee engagement and typically see better customer take up. She challenged the audience to go back into their own businesses and consider what diversity means to them and what the potential business case might look like, referring to the fact that in previous businesses she's worked at they had actual pound signs attached to the diversity issue.

Julia Zygier, Digital Marketing Executive at Foundation SP then shared an interesting angle from the perspective of a young female entering into the technology industry, which again focused in in the importance of avoiding pigeonholing individuals into groups but providing employees what they need to be successful. Zygier also reinforced the arguments around the importance of variety of input and mindset in the creation of high performing teams.

Finally, we were joined by Pam Hehn Schroeder, Head of Control & Sourcing at Ericsson. There was a lot of takeaways from this session but perhaps the most striking was the importance of an organisations core values to the diversity debate. Diverse candidates are looking for roles in organisations that they can relate to and feel part of and values play a key part in that decision making process. If you get your values right. You are more likely to get diversity and inclusion right. Pam went on to discuss the importance of diverse thought to a company that is at the forefront of 5G and the Internet of Things in terms of driving that agenda forwards. She discussed the importance of setting goals around diversity but more significantly the importance of leadership and leadership style in terms of creating the right culture for change. Pam stated 'for an organisation like Ericsson operating in over 180 countries the diversity issue goes far beyond gender".

A huge thank you obviously goes out to Ericsson for hosting the event and sharing their story with us. It's incredible to see how quickly this community is growing so be sure to check out the events section of our website for the announcement of future dates. We look forward to seeing you all at the next one. Let's Go, Let's Grow!