We all know that creating an effective DE&I strategy is about more than just recruitment. However, it's important to look at your hiring processes and how they may be positively or negatively impacting your ability to engage with diverse talent. That starts with the very first interaction in the recruitment lifecycle - the job advert. By taking just a few simple steps, you can make significant progress toward improving your pipeline of candidates from under-represented groups.
Why it matters:



According to a recent Glassdoor report,

76% of job seekers

report that a diverse workforce is an important factor when evaluating companies and job offers.

Findings from a

Deloitte survey

show that 80% of participants feel inclusion efforts are an important factor when choosing a company.

Another Deloitte report reveals that 78%

believe diversity and inclusion create a competitive advantage in the marketplace.
What you'll learn:
In this article, you'll get to explore the features that make up an inclusive job description, see five great examples to inspire you and be able to take away key learnings to start creating your own today.
Skip ahead to:

How do you write an inclusive job description?
Before diving in with our examples, let's take a quick look at a few areas for optimizing your job posting to ensure that it's inclusive by design.
1. Identify gender coded words
First things first, focus on identifying and removing gender-coded vocabulary from your job adverts. Even subtle word choices can influence your results when it comes to application rate. For example, research shows that words such as "determined" and "competitive" will primarily appeal to male candidates. On the other hand, women tend to feel more excluded by this type of language and are, therefore, less likely to apply. When it comes to job ads, words really do matter, so start developing your own understanding of how to avoid gender-coded language and consider using job ad optimization tools.
2. Format your job advertisement
It's equally crucial to consider your job advert's format, readability, and layout. The average job seeker decides whether to apply in less than a minute, so you want to pique interest quickly. Avoid long lists surrounding the 'must have' job requirements and too much technical jargon, as this may discourage applicants that do not meet every single line of an exhaustive list of criteria.
3. Remove unconscious bias
Unconscious biases can easily slip into a job ad, and it's not always so easy to spot. Ensure you circulate your job description with a range of people across the business; ideally those who perform similar roles or come from different backgrounds, to gain diverse perspectives and feedback before going live.
4. Include your diversity statement
Finally, a diversity statement is your opportunity to actively invite applications from a diverse range of candidates. Some companies make the mistake of writing this statement to read more like a legal clause. Make sure yours is authentic, in your brand tone of voice, refer to your company's mission, and speak to the candidate directly. This is a great opportunity for you to stand out from the crowd by articulating what diversity really means to your business.
5 Great examples of inclusive job descriptions
Now that we've covered some things to look out for let's take a deeper look at these examples in practice.
1. Diligent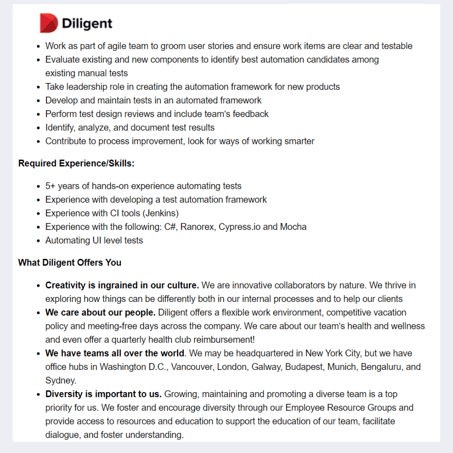 Why it works:
As we've mentioned, your job advert's format, readability, and layout are crucial for attracting suitable candidates. You have less than a minute to appeal to most prospective candidates. With that timeframe, your job advert must be readable at a glance to pique interest, like this example from Diligent.
The job description is divided into sections, making it easy to navigate relevant information. Short and simple bullet points for responsibilities and required experience make it easy to digest and clarify expectations for the role. The advert focuses on skills and experience as opposed to exclusive language like 'must-haves'; diverse candidates are less likely to apply if they don't meet all of the criteria under a subheading of that nature.
Finally, they highlight their commitment to inclusion in the 'What Diligent Offers You' section. They clearly articulate how the company benefits from diversity of thought - ensuring applicants know that it's an integral part of its culture and EVP.
The takeaways:
Keep the format sharp and simple with bulleted lists that get to the point.

Be clear about expectations on both sides - what do you want from the candidate, and what will they get from you?
Avoid long, messy lists around the job requirement

s

; unnecessary terms are one of the fastest ways to turn off candidates.
2. HubSpot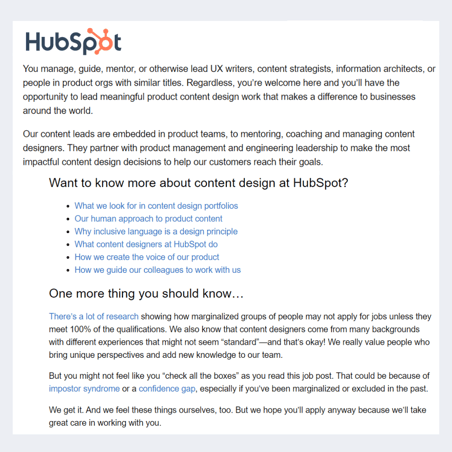 Why it works:
In this example from HubSpot, the advert reflects the company's DE&I initiatives and shows that it takes these commitments seriously. This description calls out the specifics for a Content Design Lead position, but HubSpot's inclusive language extends across all the job posts it has live. Each job posting is personalized to the specifics of the role and what DE&I may look like for that department. Diversity, equity, and inclusion are called out as a part of the role expectations with examples such as:
"You'll love this role if you…Foster team health and bring a sense of mission to the group you lead and the broader UX team. This includes being responsible for creating safe spaces for DE&I discussions, thoughtful team organization, aligning strengths to problems, and providing opportunities for career growth through additional responsibility or potential impact."
The advert details clear expectations for the role with inclusive language under the straightforward heading, "Here's a clear view of what success looks like in this role." More helpful information for prospective applicants is easily available via links throughout the advert.

Towards the end of the description, the company has a dedicated paragraph that speaks directly to marginalized groups. While it's not calling out any one group in particular, again, this shows its commitment to actively ensuring that DE&I initiatives are engrained across the organization, starting with recruitment.
The takeaways:
If you want to attract diverse applicants from underrepresented groups - speak to them

in your job adverts. This is your first opportunity to make them feel valued and encourage them to get in touch.

Highlight your commitments to DE&I wherever relevant so candidates can see that it's an important part of your company culture.
Personalize adverts and highlight how each role is linked in a unique way to your DE&I initiatives.
3. CrowdStrike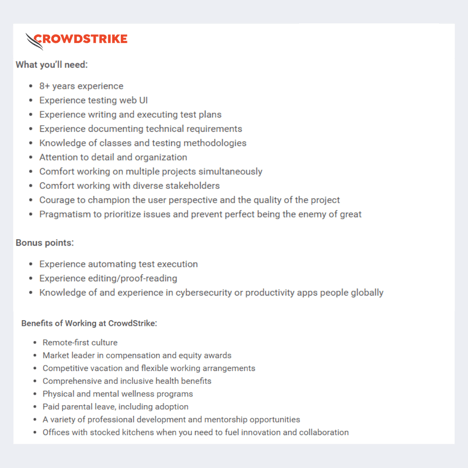 Why it works:
CrowdStrike's job advert instantly outlines the company's DE&I policy; it's one of the first things applicants will read. The ad uses language that clearly outlines "What you'll do" and "What you'll need" and uses the section heading 'Bonus Points' as an inclusive way of framing other aspects of the role. Compared to using a phrase like 'must-haves,' this term is less likely to deter applicants who may not tick every box in the section.
Something that stands out with this example is the range of inclusive company benefits around learning and development, parental leave including adoption, and flexible working arrangements. The DE&I policy is referenced again at the bottom of the advert; the description starts and finishes with DE&I and uses inclusive, direct language throughout to encourage a diverse range of applicants.
The takeaways:
Consider how your benefits reflect your DE&I policy and employees' preferences, lifestyles, and behaviors - are these relevant to a diverse range of individuals?

If your company provides inclusive benefits - don't make applicants work to discover them. Instead of finding their way to your careers page to find out more, showcase them in your advert.
4. GitLab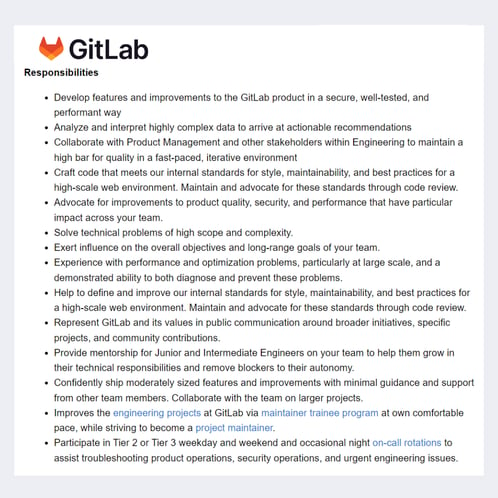 Why it works:
This advert from GitLab is an excellent example of gender-neutral language and clarity around expectations. Compared to the other job adverts we've looked at in this article, this description is a little longer, but it's full of helpful information to help potential applicants make an informed decision about their fit for the role and company, and the format and layout make it easy to read.
Similar to our earlier example with HubSpot, links are embedded throughout the job description, directing applicants to learn more about specific areas. On the website version of the advert, there's also a detailed section that talks candidates through the hiring process for that particular role.
The takeaways:
Outline your hiring and interview process. Doing this in your job description ensures the candidate is aware of the time commitment and expectations of the process early on, allowing them the best opportunity to prepare.

Share as much relevant information as possible in your job adverts, but stick to a clear format that's easy to read.

Embedded links are a great way to achieve this, allowing you to share helpful resources that applicants can easily navigate without feeling overwhelmed while reading the job ad.
5. SAP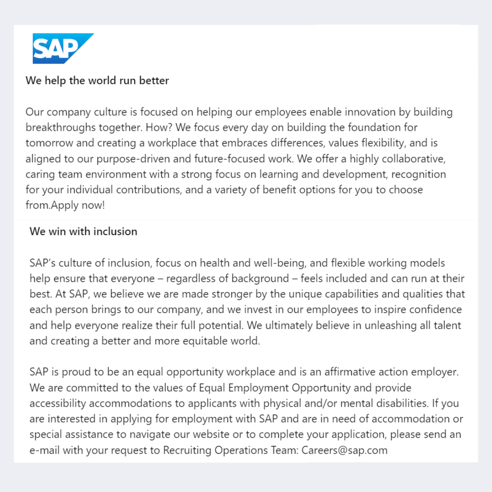 Why it works:
Like our earlier example of CrowdStrike, SAP opens its job advert with a DE&I statement outlining its culture and, importantly, how that aligns with the company's mission. It makes candidates feel welcome from the get-go.
The company's DE&I commitments are echoed again at the bottom of the job description under the heading "We win with inclusion," mentioning its:
"culture of inclusion, focus on health and well-being, and flexible working models help ensure that everyone – regardless of background – feels included and can run at their best."
While reiterating its DE&I policies at the bottom, the company also offers potential applicants additional support should they need it to navigate the SAP website or to complete the application. Each time the company references its commitment to DE&I, it fits the SAP tone of voice and flows as a natural part of the advert - a DE&I statement doesn't have to read like a legal disclaimer.
The takeaways:
Inclusion statements in job ads are a great way to illustrate your company's values and inform potential candidates. So highlight your commitment with an authentic statement.

Make it your own. Keep your advert authentic to your brand personality to resonate with your audience.

Think about how you can offer reasonable accommodations within your hiring process - and invite applicants to get in touch with you if they have any specific requirements.
In Summary
As the first touchpoint between a potential candidate and your organization, a job advert is an essential opportunity to convey your company's culture and EVP to diverse talent pools. So, ensure that the first communication prospective candidates see is unbiased, inclusive, encouraging, and ultimately engaging.
Here's an overview of what we covered today:
Identifying and removing gender coded words
Formatting your job description
Removing unconscious bias
Keeping your diversity statement true to your brand
5 companies leading by example with inclusive ads
What's next?